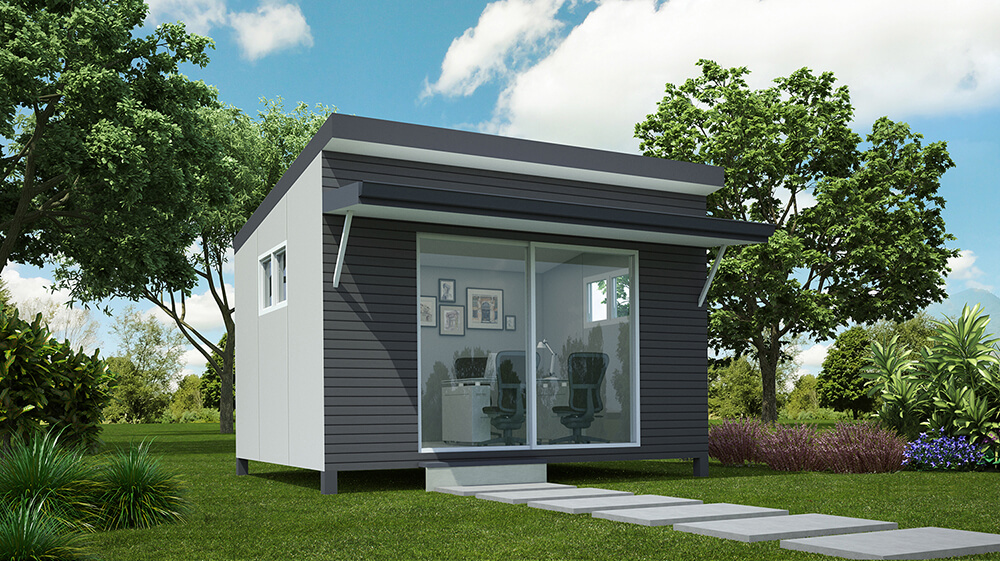 Pods are becoming very popular as a way of creating extra space without the need for costly home renovations and additions.
Straight Edge Pods are available in three standard sizes, and are clad with Scyon Easylap, and Hardies Primeline Chamferboard for a contemporary look with clean lines.The sizes chosen have been selected to suit material sizes and reduce on site waste.
Pods are supplied with steel stumped floor systems, however these can be removed if you wish to put your Pod on a concrete slab.
The interior plasterboard linings are included, however these can be replaced with fibre cement with express jointers if you'd like to avoid the cost of sanding and flushing.
All Pods include:
Easy to assemble steel floor sytem to 600mm floor level
22mm Aquatite tongue and groove flooring
90mm Bluescope Truecore Wall and Roof
Frames with a 50 year material guarantee.
R2.0 batts to external walls & R4.0 batts to ceiling
Awning as shown
Roof and ceiling battens
Colorbond roof sheeting, fascia, gutter, downpipe
Colorbond Barge cappings
Scyon Easylap cladding to the side elevations
Hardies Primeline Chamferboard cladding to the front and rear elevations + Colorbond external corner trims
2.4m wide Jason's sliding door plus two sliding windows
Your choice of Plasterboard or Fibre Cement internal linings
Timber step materials
Prices and Sizes
4.2m x 4.2m – $21,862 inc GST
4.8m x 4.8m – $23,144 inc GST
5.2m x 5.2m – $27,352 inc GST
All Pods include delivery within the Perth Metro Area.
Registered Builders prices available.